The Illoura flock continues to grow and this year we mated 1350 stud ewes and tagged nearly 2000 lambs from these ewes.
All lambs are weighed at birth, at weaning and early post weaning along with post weaning fat and muscle measurements. Detailed pedigree details are recorded and we can provide a pedigree going back over 30 years for sheep born and bred on the property. This record keeping is essential to identify bloodlines that are performing well and those that are not.
To keep on top of flock management procedures and maintain the necessary standards in a large stud, we have invested heavily in new technology:
good fencing, yards and infrastructure to ensure efficient sheep management
labour saving sheep handling equipment
electronic tags to quickly and accurately collect information
auto weighing and auto drafting
Auto-Drafter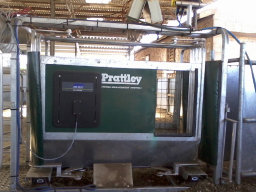 In 2016 we adapted our auto drafter for our pregnancy testing. This means we can automatically read the ewes tag number, record weight, condition score, pregnancy status and draft accordingly. The drafting can be done automatically as required eg all multiple bearing ewes drafted off, or, only multiple bearing ewes that have a condition score of less than 3.
This micro management at the individual sheep level means we can improve lamb survivability. However, it also means that we need to keep a lot more records.
The premise of Lambplan is that every lamb born in a management group has had an equal opportunity to express their genetic potential. If we preferentially feed ewes to increase the number of lambs weaned, this information needs to be recorded in the Lambplan database to give us accurate ASBVs for birth weight, growth rate etc.
Australian Research Breeding Values (ASBV's)
Illoura is a foundation member of Lambplan (initially with the SA Sheep Meat Testing Service) and it is a valuable tool to assist with stud selection by providing breeding values for a range of economically important traits. However, the first cull will always be based on conformation and structure to ensure the sheep live a long and productive life.
These Australian Sheep Breeding Values (ASBV's) compensate for external influences like birth type, age of the dam and age at testing. The figures are then used within the stud to select the best animals as breeding stock to provide optimal birth weight, growth rates, fat coverage and muscling. The ultimate aim is to produce animals that will meet market requirements in the most efficient manner.Illoura has been performance recording their stock since the early 1980's and is foundation members of the national Lambplan performance recording scheme.
In more recent years, Illoura has been involved with the Sheep CRC Genomic Program where DNA samples from our elite sires are submitted for analysis.
This will increase the accuracy of the growth, fat and muscle figures that we have been providing for many years, This cutting edge technology also gives us information on the hard to measure traits like dressing percentage and lean meat yield (important for processors), intramuscular fat and meat shear force (essential for a pleasant eating experience) and worm resistance.